Related Products
-Suitable for Indoor / Outdoor (duct) Local Area Network System -Excellent Water Proof Layer & Good Moisture Resistance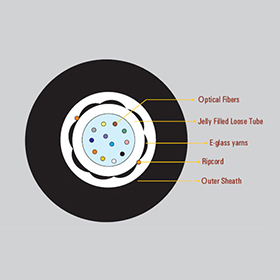 -Suitable for Indoor / Outdoor (duct) arial , pipeline -Excellent Water Proofing performance
Tight Buffered Optic Fiber Cable
In Tight Buffered OFC the buffer is the first layer of protection surrounding the optical fiber, the bare fiber is put into this buffer tube.
A tight buffer fiber optic cable means the optical fiber's coating diameter is same as the buffer tube's inner diameter.
D-Link's Tight Buffered Cable cables improves reliability and terminations are faster.
- Suitable for aerial , pipeline , bracket Laying
- Suitable for Indoor & outdoor
- Light weight , all dielectric self supporting